Click the icon below to share with friends!
About the Beach Trax Accessible Mat
Access Trax is proud to produce the Beach Trax portable access mat in the USA. Beach Trax mats are 3 foot by 3 foot flat squares made from a durable plastic that won't degrade in the sun. Each panel only weighs 5 pounds! The lightweight nature paired with the shape allows you to easily transport and store Beach Trax flat in the back of your car or garage without taking up much space. Removable hinges allows you to design your wheelchair accessible pathway in any configuration (turns, platforms, etc.). You can even change the pathway layout in seconds whenever needed. For more detailed product info, visit our product page here.
For more permanent applications, simply stake down the mats since there are holes in each corner for this exact purpose. The firm and stable surface is ADA-compliant and has been tested successfully with many mobility devices. With Beach Trax, you can stop worrying about how you'll get where you're going and just enjoy the experience.
1. Beach Trax for Accessible Outdoor Events
The first use we'll describe is for outdoor events. Beach Trax is perfect for any outdoor event on terrain such as sand, grass, gravel, or even snow! When you need a firm and stable walking surface for your event participants and spectators, you can rely on Beach Trax. You can quickly and easily create your pathway layout at your event to reach all areas such as check-in, vendors, viewing areas, and of course awards. For complete ADA-compliance at the beach, consider making your pathway "double-wide" for a 6ft wide pathway- this allows people to pass each other easily. The pathway is not just for people who use wheelchairs or walkers. A stable walkway is preferred by all people including parents with baby strollers! Beach Trax is available for rent and for sale. Visit our rental page to learn more about all-inclusive event rentals with set up labor included!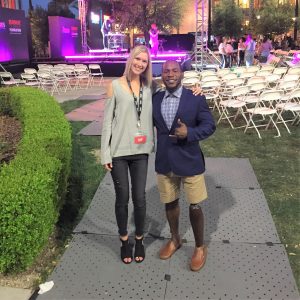 Beach Trax has been used for all kinds of outdoor events!
2. Beach Trax for ADA Compliance at National Parks
The Beach Trax accessible pathway is perfect for ADA-compliance at National Parks. The firm and stable surface can be used for accessibility for visitors with disabilities, the elderly, and parents with baby strollers. Access can be for desert sand, campgrounds, river and lake access, and beaches for example. Make sure guests of all abilities can visit your beautiful Parks! Beach Trax is the best solution because it is ADA-compliant, easy to install and maintain, durable and long-lasting, made in the USA, and cost-effective. Individual mats can be staked down for long-term use all year-round, or the pathway can be installed for specific events or seasons.
Case Study: Golden Gate Recreational Area
Access Trax CEO Kelly Twichel installed Beach Trax as a permanent beach access mat at the Golden Gate Recreational Area in San Francisco. Crissy Field East Beach is a beautiful and highly accessible park with a parking lot, accessible restrooms, and even a free beach wheelchair program run by the Park Service. This beach park is on the San Francisco Bay and has amazing views of the Golden Gate Bridge. Beach Trax provides an ADA-compliant firm and stable surface over sand for park visitors who use mobility devices, parents with strollers, and all people. The pathway extends out from the boardwalk in a "T" shape. If you're lucky when you visit there, you may spot local sand sculpture artist Zach Pine teaching a free class on making sand globes!
Access Trax CEO Kelly poses with the Accessibility Coordinator and a park visitor on Beach Trax after installation.
3. Wheelchair Access Mat for Beaches
Who doesn't want to have access all the way to the water or hard-pack sand at the beach? All community members and tourists deserve to feel this freedom. Beach Trax can provide an ADA-compliant solution for providing a firm and stable walkway for beach-goers to enjoy the sand or water. The beach mat can be installed for busy seasons, special occasions, or year-round because it is durable, safe, and long-lasting. Lifeguard vehicles can drive across the Beach Trax with no issues.
The Beach Trax mats can be staked down to the sand and easily maintained by the city or parks and recreation staff. Maintenance may include sweeping (daily or weekly depending on wind and foot traffic) and grading the sand underneath (perhaps every 6-12 weeks depending on local conditions). Mats are not labor intensive for crews to pick up for maintenance or removal for off-season. The Beach Trax also stack flat for storage, taking up very little room in either lifeguard towers or public works storage.
Beach Trax is a durable and effective beach access pathway for the whole community.
4. Family Vacations and Travel
If your next vacation includes the beach, camping or other outdoor activities, consider adding Beach Trax to your travel packing list! If any member of your family uses a mobility device such as a wheelchair, walker, crutches, or cane, Beach Trax is the perfect solution for accessibility at your fingertips. Did you know that the Beach Trax portable access pathway can fold and stack only inches thick? This makes it easy to check as luggage on the airplane to take on your adventure! Most airlines will accept it as your assistive technology and waive the baggage fee if you have a disability. You can also use the shoulder carrying strap to transport the panels easily. Once at the beach or other outdoor area, it only takes one person to set up. If the panels are connected in a straight path, they simply accordion unfold in seconds! Check out the images below to see for yourself!
Beach Trax is very portable and has been used by families for their vacations.
5. Beach Trax for the Home
Does your front or back yard have gravel, dirt, or grass that is hard to access? Do you want to avoid pouring concrete just for accessibility? Beach Trax is the perfect solution for temporary or long-term accessibility in your yard at home. If you need a firm and stable pathway to your home, garden, or backyard, give it a try and experience the freedom to move around. This is one "home modification" that you'll be excited to use! Plus, if you're going to the beach or park, you can simply fold up your Beach Trax from the yard and put it in the trunk of your car to take wherever you need it! Check out some examples below.
Beach Trax can be used around the home in your yard over grass, dirt, mud, and gravel!
6. Accessibility at Playgrounds
Have you ever been to a playground and couldn't access the swings or play structure because of sand or wood chips? What if the parent uses a mobility device and can't play with their child at the playground? This is very common unfortunately. Beach Trax is a great solution for an ADA-compliant accessible pathway at parks and playgrounds so everyone can participate. Contact your local Parks and Recreation department or school Special Education department to start the conversation around accessibility solutions for yourself or your child.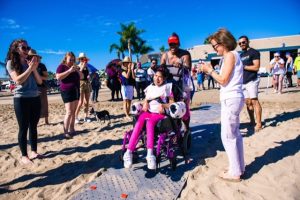 Beach Trax can be used to provide accessibility at playgrounds and parks.