Access Trax has been featured in many local tv stations, publications and podcasts. Learn more about our activities in the featured press below!
Be sure to view the full story by clicking on each photo or logo below
CBS 8 San Diego News reporter Shawn Styles shares the story of Access Trax winning the 2020 FedEx Small Business Grant Contest
May 7, 2020
Watch CEO Kelly Twichel featured with adaptive athlete Albert in the Live Segment "Made in San Diego" on Fox 5 San Diego
November 4, 2019
Watch the ABC San Diego Channel 10 News episode of 'Making it in San Diego' featuring our CEO Kelly
August 21, 2019
San Diego State University's Zahn Innovation Platform Launchpad Interviewed Kelly about Access Trax as Assistive Technology for the Aging Population
August  2019
Kelly was interviewed by San Diego KUSI morning news for a live interview at the Switchfoot Bro-Am event
June 29, 2019
Media: Published Articles
"Access Trax – Kelly Twichel's Path Less Traveled"
Feb/March 2023
"Access Trax Turns $10K Into Canada, Australia Export Growth with MetroConnect"
1/11/2023
"Small Business Owners Pivot to Meet the Challenge of Supply Chain Issues Ahead of Holidays
12/02/2021
"9 Woman-owned Businesses Making San Diego Life-Changing"
8/26/2020
"Beyond ADA Accessibility in National Parks: Q & A with Access Trax"
9/10/2020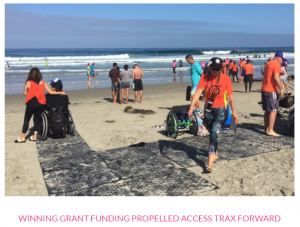 "Winning Grant Funding Propelled Access Trax Forward"
6/17/2020
Our CEO Kelly Twichel was featured in 'OT in the News' as part of the Occupational Therapy (OT) Practice Magazine.
December 2019 Issue
"Access Trax Wins Connect All Pitch Competition"
10/10/2019

"Millenial Entrepreneur Wins Grant for Making Beaches More Accessible"
10/23/2019
"Company Puts Beach in Most People's Reach"
December 2019 Issue
"OT Alumnus is Changing Accessibility Norms Around the World"
May 2019
"Conversations with the Inspiring Kelly Twichel"
8/5/2019
"10 Innovative Mobility Products"
January 2020
"What Makes for an Accessible Beach?"
Access Trax CEO Kelly contributed to the article
September 2018

"Access Trax and Their Vision to Make the Outdoors More Accessible"
12/19/2018
Kelly joins host Ladianne from the Podcast Create Talk Explore. Ladianne met Kelly through the 2022 Tory Burch Fellowship for women entrepreneurs. 
August 2022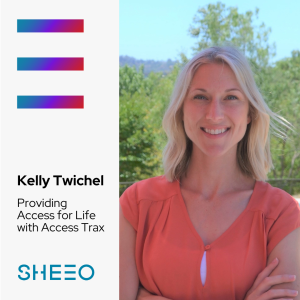 The SheEO podcast features an interview with Kelly Twichel hosted by Dr. Vanessa Hall of PNC Bank. They discuss what inspired Access Trax, how the SheEO program is helping the company grow, and a very impactful customer story.
May 2022
The infamous San Diego Tacos and Tech Podcast hosted by Neal Bloom features Kelly as she shares her entrepreneurial journey with Access Trax.
October 2021
Kelly is featured as Queen of the Week in the Get Sh!t Done Podcast: A podcast dedicated to helping female entrepreneurs scale companies on their own terms.
May 2021

In this episode, hosts Kristin and Edward Gagnon – parents & special needs community advocates – interview Kelly and learn about her passion for accessibility.
10/25/2020
Listen to an insightful chat between Kelly and host Carden Wyckoff, an accessibility advocate.
10/11/2020
Hear Kelly's interview including tips for therapy students on the Home Health Occupational Therapy Explorer podcast hosted by Monika
10/29/2019
Listen to Kelly's interview about her entrepreneurial journey with Access Trax hosted by Patricia Kathleen
9/9/2019
Kelly shares her entrepreneurial journey as a social impact startup founder and advice for others looking to find their passion
4/22/2020
Watch the interview with Living Adaptive host Scott Davidson as he asks Kelly questions related to her work with the adaptive community
5/8/2020

Access Trax selected as one of fifty 2022 Alibaba.com Manifest Grants Program Winners.
January 2023

Kelly of Access Trax selected as one of fifty 2022 Tory Burch Fellows.
May 2022

Access Trax wins first place in Founders First CDC Southern California Challenge business pitch competition.
April 2022

Access Trax voted a SheEO US Venture Finalist alongside 4 other women-led businesses working on UN Sustainable Development Goals.
February 2022

Access Trax among first cohort of San Diego Tourism Authority Accelerator Program.
December 2021

Access Trax is officially awarded a patent.
August 2021

CEO Kelly Twichel is interviewed for the Invent Together initiative speaking about the importance of diversity in innovation.
May 2021

The #11 FedEx Toyota Camry driven by Denny Hamlin has placed the Access Trax logo on their small business paint scheme racing Feb. 28th 2021 as part of the NASCAR Cup Series.

Access Trax wins 2nd place in the Judges Choice Award at the Get Sh!t Done Pitch Competition, April 2021.
Access Trax wins grand prize in the 2020 FedEx Small Business Grant Contest out of over 4,000 applicants.
Access Trax is selected as a SheEO 2020 US Venture Semi-Finalist
Kelly spoke as a "She is Going Places" panelist at the Academy of Our Lady of Peace 6th Annual Women's Symposium on September 11, 2020.
Kelly is nominated for the NAWBO (National Association for Women Business Owners) Brava Awards, 2020. These awards celebrate the accomplishments of female entrepreneurs in San Diego.
 Access Trax has been selected as a 2020 SOCAP Scholarship Entrepreneur Winner, an award enabling social impact entrepreneurs special access to the annual conference.
Access Trax was a Top 100 Finalist in the 2019 FedEx Small Business Grant Contest.
Access Trax was selected as a top 20 finalist for the Small Business, Big Impact Award in 2019.
 Kelly was selected to be a WomensNet Amber Grant Award recipient in December 2018, a grant specifically for women entrepreneurs.

CEO Kelly Twichel was selected for a competitive business pitch at the 2019 Women's Fast Pitch Conference in San Diego.
Access Trax Joins First Cohort of New San Diego-Based Business Accelerator Program in 2019.
Access Trax wins Connect All at the Jacobs Center business pitch competition sponsored by Union Bank on 10/9/2019.
Access Trax received an award of excellence for Accessible Travel Product by Accessible Travel Online (ATO) July 2019.

Access Trax Co-Founders Kelly and Eric were finalists in the James McGuire Global Business Plan Competition in 2017.
CEO Kelly Twichel completed the High Performance Supplier workshop series as presented by the Council for Supplier Diversity in 2019.