Access Trax
We empower people of all abilities to access the outdoors through our innovative portable, durable pathway solutions.
Access Trax Mat
The only portable, lightweight, foldable pathway for accessibility over outdoor terrain.
Provides universal access for people using mobility devices, parents & strollers, event equipment transport & more.
Lightweight
Individual Access Trax mats only weigh 5lbs. Easy to transport and set up.
Foldable
When hinged together, 10 panels accordion fold to stack under 3″ flat.
Increased Access
Access Trax empowers the user to access recreation over sand, gravel, dirt, grass, etc.
Durable
Constructed from UV stable, recyclable hard plastic to provide a smooth and long lasting pathway.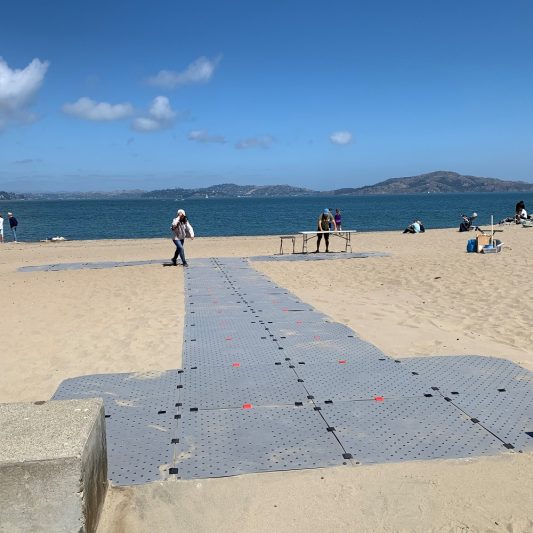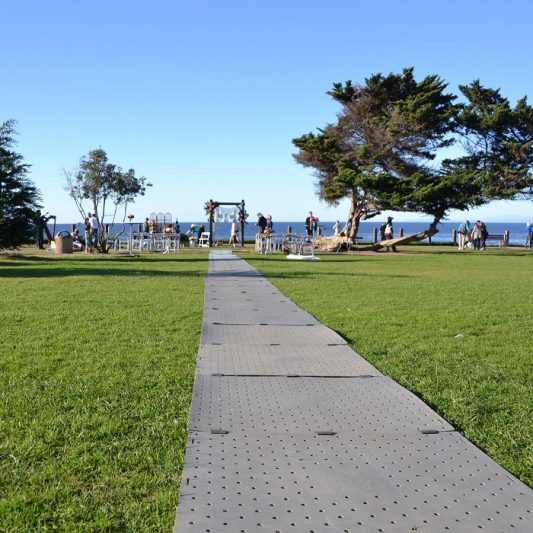 Inspired by adaptive athletes; invented by occupational therapists. We believe in improving accessibility for everyone, everywhere.
We are proud to serve a variety of people and industries.
Adaptive sports associations,
outdoor events, recreation programs
Rent Access Trax in Southern California and beyond!
Adaptive surfer Kumaka uses Access Trax to cross the long stretch of sand at Huntington Beach to access the water.
Check out our YouTube Channel to watch more videos showing the Trax in action! Plus, learn practical "how to" info and inspirational stories.
Access Trax allows individuals
to have more power over accessibility
Access Trax (formerly Beach Trax) is a lightweight, foldable, durable pathway designed to increase access over uneven terrain such as sand, gravel, dirt, grass, and snow. Our patented design provides ADA compliant accessibility to wheelchair users, pedestrians, carts and strollers. Our patent pending technology allows Access Trax to fold, making it very easy to set up, break down, and store. With Access Trax, you can spend more time doing the things you want and need to do, instead of worrying how you'll get there.
ACCESS TRAX PROVIDES ACCESS FOR LIFE
Whether you're needing access for personal or public use, for ADA compliance, events, work, or leisure.