Durable, lightweight, foldable portable wheelchair access mats
For mostly flat areas on terrain like sand, gravel, dirt, mulch & grass
Works with mobility devices & heavy equipment
Most families get 5-10 mats if using at the beach (can move mats)
Use for long term or temporary access route
Trusted by 50+ nonprofits globally & the Department of Veterans Affairs
10 Mat Bundle Comes with:
10 – Mat 36 x 36 x 1/8 inch; 5.2 lbs (91.4 x 91.4 x 0.32 cm ; 2.35kg)
30 – Orange Hinges
Mats are guaranteed with a 180-day manufacturer's warranty. See our FAQ page for details. Read our user guide here.
Shipping lead time depends on order size but is typically within 1 week.
Have a question? Call Kelly at 619-292-8766 or send us an email.
For orders outside the USA, please fill out our quote request form. Request Your Free Quote.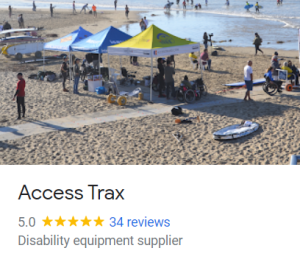 Customers love us: We've earned 5 stars on our Google Business Page!
In stock (can be backordered)
Access Trax Portable Wheelchair Access Mat
Access Trax (formerly Beach Trax) is the most user-friendly system for families, organizations, and government entities to provide safe handicap access to outdoor areas with terrain such as sand, grass, gravel, and snow.
Made from durable, recyclable, UV stable HDPE plastic
Create pathway in any configuration
Durable removable hinges
Mats can be staked down for long-term use
Lifeguard vehicles can drive across
Tested with mobility devices such as power/manual wheelchairs, walkers, crutches, canes, & strollers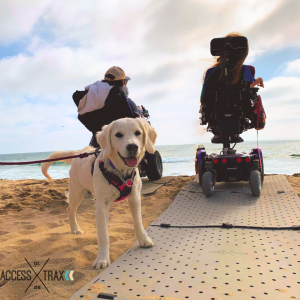 Are you purchasing Access Trax for adaptive recreation? There are grants that help cover the cost of adaptive equipment- check out our article on grants here. Customers have had success with the Victoria's Victory Foundation and nonprofits or government entities are encouraged to check out the Christopher and Dana Reeve Foundation.
Additional information
| | |
| --- | --- |
| Weight | 57 lbs |
| Dimensions | 36 × 36 × 0.125 in |
Watch our quick setup guide video to see how easy it is to use Access Trax!