On Monday May 4th, FedEx officially announced the winners of the 2020 FedEx Small Business Grant Contest. Out of over 4,000 entries, twelve winners were selected to win grants ranging from $15,000 to $50,000 plus other valuable services and perks. Access Trax is elated and honored to be chosen as the grand prize winner this year. "This grant represents so much more than just a financial boost that will help Access Trax succeed for years to come" says CEO Kelly. "I'm looking forward to being part of a cohort of other entrepreneurs who can support and encourage each other through this journey."
Reliving the Moment
Below, Access Trax CEO Kelly Twichel relives the exciting moment she learned she had won the grant:
"At first, I didn't know the video call with my local FedEx Rep had anything to do with the grant competition. They were definitely going for the element of surprise. As the call started, I noticed there were more people than normal. The next thing I know, I was being congratulated as the Grand Prize Winner for the 2020 FedEx Small Business Grant! I had an immediate rush of emotion as I threw my hands over my face and started crying tears of joy. Over the past 2 years since launching the company, I have worked so incredibly hard to grow the business and accomplish the mission of making the outdoors more accessible for all. With the current public health and economic crises, growing the company has been extremely challenging. Even before March, I had been operating on a tight budget. This grant is nothing short of a miracle for Access Trax and has lifted a great amount of stress."
"I was sharing this moment on a video call with 5 people who I had just met or only known for a short time. But that didn't matter. Everyone at FedEx was so supportive. One of the reps even shared how she learned about me last year and had been rooting for me. Her sister has muscular dystrophy, so she is very aware of how difficult it is to access outdoor places like the beach using a wheelchair. There are so many people in the world who can benefit from improved accessibility. Their stories fuel my passion as a social impact entrepreneur as I try to change the world. Thank you, FedEx, for supporting small businesses like Access Trax!"
About the FedEx Small Business Grant Contest
The FedEx Small Business Grant Contest was launched in 2013 and attracts thousands of applicants each year. In 2020, over 4,000 entrepreneurs competed! The initial phase of the competition involves creating a company profile and encouraging supporters to vote for your business in early spring. At the end of this voting period, FedEx grant judges will go through around 700 of the top voted businesses and pick 100 Finalists. Once the Top 100 are announced, the judges then select the final 12 winners for the grant prizes.
Kelly explains, "Becoming a FedEx Small Business Grant winner is so much more than just the cash. In addition to the money, Access Trax will get $7,500 worth of FedEx Office and Print credits, a future trip to Memphis to meet the other winners, and a full website SEO audit. Alongside these perks is joining the incredible community of other entrepreneurs and mentors. The sense of collaboration and community is clear in the testimony of past year's winners dating back to the grant's inception in 2013. I am so proud and honored to join this group and contribute."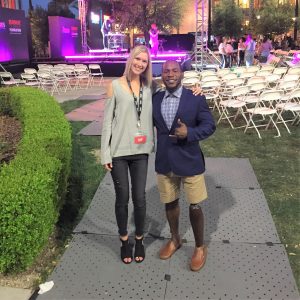 Plans for the Future and Special Thanks
"As Access Trax looks to the future, the possibilities are endless. I can't wait to learn more about marketing, SEO and shipping optimization. I also plan to eliminate high interest company debt and invest in marketing strategies and infrastructure. Access Trax will continue research and development with a focus on sustainability. Finally, Access Trax will prepare to hire its first employee!"
"I want to say a special thank you to everyone who has supported myself and Access Trax on this journey, from my family, friends and mentors to partners and customers. From the very beginning in 2016, I knew this was going to be difficult. Entrepreneurship has its ups and downs, but I somehow always found a way to keep moving forward. This optimism and drive would not be possible without the inspiration from the people I serve. My customers are my family, and I thank you for believing in the company and product. You also have voted tirelessly for Access Trax in too many grant competitions to count! You made this happen!
I am grateful for my partners in business who support the vision of making the outdoors more accessible for all. Thank you to my family, friends, and colleagues who have supported me from day one. To all my mentors from Connect All at the Jacobs Center, the Ad Astra Bootcamp, WomensNet, SCORE, PTAC, CMTC, the SBDC, and more: THANK YOU for sharing your time and expertise. And finally, a huge thank you to my best friend and love of my life, Jeff. He has seen this grow since 2016 and has never once doubted me. Jeff, you're my rock during this crazy and exciting journey."
About the Folding Beach Mat
Inspired by adaptive surfers, Access Trax empowers people with physical disabilities to access outdoor terrain using our modular folding pathway. Outdoor terrain like sand, grass or snow is a barrier to millions with mobility challenges. The Trax pathway was invented by 2 occupational therapists in order to make the outdoors more accessible. It is the most user-friendly and cost-effective solution for sale and rent. We are proud to serve families, adaptive sports organizations, the National Park Service, and the Department of Veterans Affairs. Access Trax is committed to advocacy and community service including beach cleanups, inclusion advocacy, and inspiring future entrepreneurs. We proudly partner with international organizations. Access Trax provides "Access for Life."
To learn more, check out the product here. To learn 6 common uses for a portable access mat, check out this informative article.